Pancakes: great, fibre: even better, so why not fuel up on fibre this Pancake Day with this Mixed Berry Pancake Stack?
Experts say we should all eat 30g fibre a day, with women in particular needing to up their fibre intake by as much as 75%*! To celebrate #FibreFebruary, this easy pancake stack with mixed berry compote contains a whopping 15.1g fibre per serving, making it the perfect place to start boosting your intake, plus we've included some tips on upping fibre to make things really easy for your readers.
Mixed Berry Pancake Stack
Pancakes:
100g plain flour
90g wholemeal flour
1.5 tsp baking powder
1/2 tsp salt
45g granulated sugar
250ml milk
1 large egg, lightly beaten ­­
70g melted butter
Butter or oil for the pan
500g mixed berries, fresh or frozen
Method:
1. Combine flours, baking powder, salt and sugar into a large mixing bowl
2. In a separate bowl, mix the milk, eggs and butter
3. Pour the wet ingredient into the dry ingredients and mix well until combined
4. Let the batter sit for 10-15 minutes
5. Heat a non-stick skillet pan over medium heat and add your butter or oil
6. Add a ladle (or 2, depending on the pan size) into the pan. When they start to bubble, flip them
7. Cook until the other side is golden brown
8. Repeat until all your batter is cooked
Berries:
1. Pour the berries into a saucepan on medium/low heat
2. When they start to loosen, you can begin to mash them
3. Slightly raise the heat to medium and let the fruit reduce, so it becomes thick. If it's too thick, you can always add more water
4. You can also add honey or sugar for sweetness if you prefer
5. Spoon as much as you'd like on the pancakes and enjoy!
Credit Line: Recipe created by Bari Stricoff, Registered Dietitian @barithedietitian www.barithedietitian.com for UK Flour Millers. For more information visit fabflour.co.uk/fab-nutrition/fibre/fibrefebruary/ @fab_flour #FibreFebruary #NourishingTheNation
Top tips for increasing fibre intake
Base meals around starchy carbohydrates such as bread, pasta, potatoes and other grains, such as quinoa or couscous.
Use wholemeal flour instead of white in recipes. Wholemeal flour provides more fibre than white flour, although white flour does still provide some fibre.
Swap refined or 'white' carbohydrate sources (e.g. bread, cereals, pasta) for wholegrain varieties.
Consume a variety of fruit and vegetables and aim for at least 5 A DAY.
Try to include more pulses, nuts and seeds in dishes by adding to stews, curries and salads.
Start your day with a high-fibre breakfast, including foods such as wholegrain cereals topped with dried or fresh fruit, wholemeal bread or whole fresh fruit.
Tips from: www.foodafactoflife.org.uk/news/it-s-time-to-focus-on-fibre/
*fabflour.co.uk/fab-nutrition/fibre/fibrefebruary/
Loaded stuffed pancakes are a famous Arabic dessert called Atayef. They are filled with walnuts and then baked golden brown. They are then coated in a simple syrup, making them the most amazing pancake dessert.
Pancake recipe plantbasedfolk.com/atayef/ from @plantbasedfolk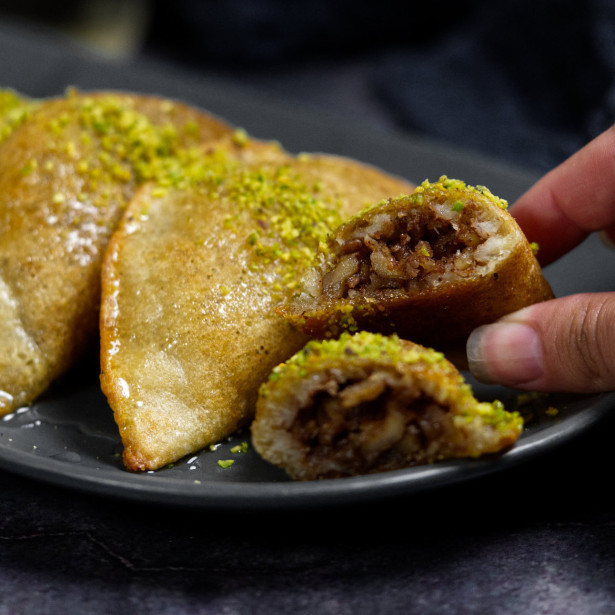 Indian inspired pancake recipes
Pancake day is nearly here and we've got some pancake day inspiration for you – all Indian inspired of course! Give them a try and let us know how you get on…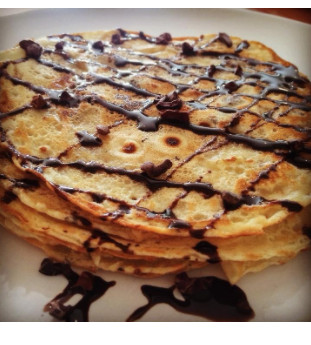 3 Indian inspired pancake recipes
Chocolate orange and cardamom pancakes
These pancakes make a lovely change to plain pancakes and are great as an indulgent weekend breakfast or as a treat! If you're making these for children, they may find cocoa nibs a little too bitter, so you can always swap them for chocolate chips and serve them with Nutella instead of melted dark chocolate…
Paneer lemon pancakes with pomegranate syrup
Why not try something a bit different this pancake day: paneer lemon pancakes with pomegranate syrup. Paneer is Indian cottage cheese, and is very easy to make. You will need to make some fresh paneer for this recipe, as the paneer you find in the supermarket will not work for this recipe…
Chai latte pancakes
Here's another alternative to plain pancakes: chai latte pancakes. With all those warming spices, and a hint of coffee, what's not to love…
Plus …
Turmeric & vanilla pancakes with agave syrup & lemon juice
These pancakes are quick to make and really delicious. They are vegan and dairy-free (not that you'd know). Note: These pancakes must be served with their agave syrup & lemon juice topping, as they complete this golden stack perfectly. Get the recipe here:
www.purepunjabi.co.uk/pancake-day-recipe-turmeric-vanilla-pancakes-agave-syrup-lemon-juice/
For more Indian food inspiration, visit: www.purepunjabi.co.uk/
One in five people plan to go plant-based this Shrove Tuesday according to new research
More than half of the UK would try a vegan pancake – PLUS the nation's favourite pancake topping revealed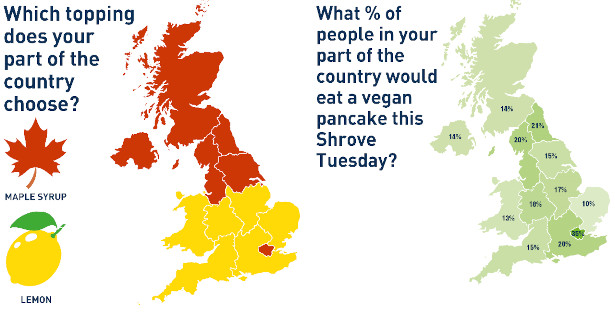 Nearly one in five consumers (19%) plan to go plant-based on Pancake Day, while more than half (57%) would be happy to try a vegan pancake, according to new research commissioned by food brand Squeaky Bean, and conducted by One Poll[1] ahead of Shrove Tuesday on 16th February.
Pancakes go plant-based
While 'Pancake Day' itself was founded more than 500 years ago, consumers are open to trying a new take on the traditional dish, which was initially created to use up eggs and milk before the start of Lent, when these ingredients would not be eaten at all.
The poll of 2,000 people who eat pancakes also found that Generation Z, millennials and Generation X (comprising 18-44 year olds[2]) are more likely to make the switch to a vegan pancake, with almost one in three (32%) 25-34 year olds saying they'll enjoy an animal product free option this year. Londoners show the largest appetite for plant-based pancakes, with 35% saying they plan to tuck into one on Shrove Tuesday. They are closely followed by the North East and the North West of England, where respectively 21% and 20% of respondents shared these plans.
Squeaky Bean's findings reflect the trend from retailers – last year Waitrose found that searches for vegan pancakes on its website were up 1,385% in comparison to the previous January – potentially due to Squeaky Bean launching its ready-to-eat plant-based pancake range at the retailer in the same month.
Lemon juice tops the lot – but not in the North
Respondents to the survey were also polled on their favourite pancake toppings, which are revealed in a table at the end of this press release. Across the nation, traditional options are still the top choices; 24% of respondents choose lemon juice as their favourite topping, 21% desire maple syrup, and 11% opt for sugar. Pancake eating consumers in the North stand apart from other regions, preferring maple syrup over the lemon juice drizzle favoured by the rest of the country.[3]
Despite this, the UK shows a sense of adventure when it comes to topping pancakes. When asked which ingredients they would consider topping pancakes with, respondents said they would try baked beans (6%), ketchup (5%) and the on-trend Korean fermented condiment, kimchi (5%). In a stark contrast to the rest of the country, 18% of London based respondents said they would consider ketchup as a pancake topping.
Protein-rich toppings, including bacon or plant-based versions, were out of favour, with just 9% of those polled saying they would consider them – despite bacon and maple syrup often being firmly associated with pancakes. One in twenty (5%) of pancake-eaters would consider dropping toppings altogether, saying they would consider tucking into a pancake that is entirely plain.
A challenging recipe
Despite toppings being a do-it-yourself affair, not all Brits will be mixing their own pancake batter in 2021. When it comes to cooking vegan pancakes, 30% said they were unsure what to replace animal product ingredients with, while 28% said they were not sure how to make them. Plant-based or otherwise, almost half (49%) of those who took the survey agreed that 'the mess, difficulty and not always having the ingredients in' can stop them from cooking pancakes.
And while the nation showed great diversity in its love for toppings, preferences regarding the ideal thickness of a pancake were even more wide-ranging – complicating matters for home chefs. Of those who expressed a preference, 65% would choose a thin (French-style) batter rather than a thick (American-style) option.
Enter Squeaky Bean
Plant-based food brand Squeaky Bean is making it easy for pancake lovers to go vegan this Shrove Tuesday and avoid the mess, hassle and difficulty in cooking pancakes.
Its ready-to-eat Fluffy American Style Pancakes and Original Sweet Pancakes are available in Waitrose stores nationwide, providing mess-free, tasty pancake options – meaning there's no need to create two different batters in households with different preferences. The Fluffy American Style Pancakes have proven such a hit that in 2020 they won a Grocer New Product Award, beating all other entries in the vegetarian/vegan sweet food category.
Sarah Augustine, Squeaky Bean's Co-Creator, says: "Shrove Tuesday has traditionally been a time to use up animal products such as milk and eggs, however with interest growing in plant-based diets, and 582,000 people taking part in Veganuary 2021, many will seek a vegan option on Pancake Day too. Our research shows that pancake lovers can be put off from cooking this delicious treat, so our award-winning fluffy and original style pancakes make it easier than ever to tuck into tasty."
Conveniently available online and in-store from Waitrose, the pancakes are ready after just 25 seconds in an 800W microwave. They can also be grilled, fried or cooked in the oven – or simply eaten straight from the pack, meaning there's no reason to lag behind in the pancake race to the table!
Each are made with a soft soya mix, making them perfect for soaking up lemon juice, maple syrup, or the topping of your choosing.
Charlotte McCarthy, Vegan Buyer at Waitrose & Partners, says: "Pancake Day is set to excite consumers this year. With many restaurants continuing to be closed through lockdown, creating events at home that are centred around food can bring back enjoyable dining experiences. Whether you're keeping it traditional with toppings, or branching out into new and more unusual flavours, convenient and great tasting products can make Shrove Tuesday more delicious than ever."
The Squeaky Bean Fluffy American Style Pancakes come in a 200g pack, and the Original Sweet Pancakes are in a 360g pack. Both have a Recommended Retail Price of £2.50.
REVEALED: The UK's favourite pancake toppings[4]:
Toppings The favourite of % respondents
Lemon juice 24%
Maple syrup 21%
Sugar 11%
Chocolate spread 9%
Jam 5%
Ice cream 4%
Berries (e.g. blueberries, strawberries) 4%
Treacle 4%
Banana 3%
Cream 2%
Other topping 2%
Cinnamon 2%
Biscuit flavoured spread 1%
Cheese or vegan alternative 1%
Proteins such as fish, tofu, bacon 1%
Vegetables 1%
Yoghurt 1%
Baked beans 1%
Avocado 1%
Ketchup 1%
Σ = 99% due to rounding to whole numbers
—
ENDS
Images:
Several infographics and lifestyle shots are attached to this release as follows:
Reusable infographics illustrating the following findings:
A map showing the favourite topping of each UK region, and demonstrating the North/South divide between maple syrup and lemon juice
A map showing which regions plan to eat a vegan pancake this Shrove Tuesday
Pack shots of both the Squeaky Bean Fluffy American Style Pancakes and Original Sweet Pancakes
A lifestyle shot of Squeaky Bean's plant-based pancakes and lemon juice (credit @crueltyfreeclairey)
About Squeaky Bean®:
Squeaky Bean® is challenging the perception that vegan food is devoid of flavour and difficult to prepare. Its range includes vegan ready-to-eat Chicken Style Pieces, Sandwich Slices, Tortilla and Pancakes, quick-to-heat Sticky Chinese Style Ribs, Crispy Duck Style Pieces with Hoisin Sauce & Pancakes, Kickin' Katsu Curry, Fishless Fingers, Nuggets and Kievs.
Squeaky Bean products are available at Tesco, Waitrose, Ocado, Sainsbury's and Asda.
You can send us a squeak @Squeakybeanveg on Twitter, Facebook or Instagram.
A family-friendly pancake recipe, the Totally Tropical Pancakes from Ella's Kitchen.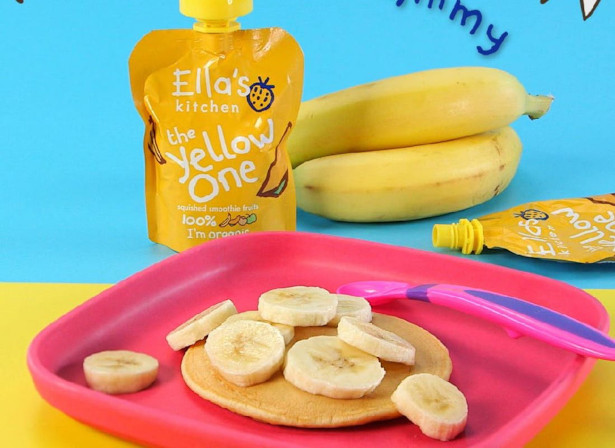 Full recipe and ingredients on how to create a stack of super tasty + fluffy pancakes at home are below. It's a naturally vegetarian, nut-free and soy-free recipe ?
Totally Tropical Pancakes
Makes: x8
Prep time: 10 minutes
Cook time: 5 minutes
Age: For all the family, and little ones from 10 months+
URL: www.ellaskitchen.co.uk/recipes/totally-tropical-pancakes
Ingredients
1x The Yellow One Smoothie Fruit from Ella's Kitchen
1x egg
90g self-raising flour
80ml of milk
1x chopped banana (or any other tasty fruit!)
Top Tips: You can swap the banana for another yummy fruit, such as chopped berries.
Method
In a bowl mix together the egg, flour, milk and Smoothie Fruit until smooth
Heat the oil or butter in a pan and add 2 tablespoons of the pancake mixture
Wait until the top of the pancake begins to bubble, then turn it over and cook until both sides are golden brown. Deeelicious!
Top with yummy banana
Mash the banana + cut into fingers before serving to your little one
Recipe by Shiraz Reddy from tincan.co.za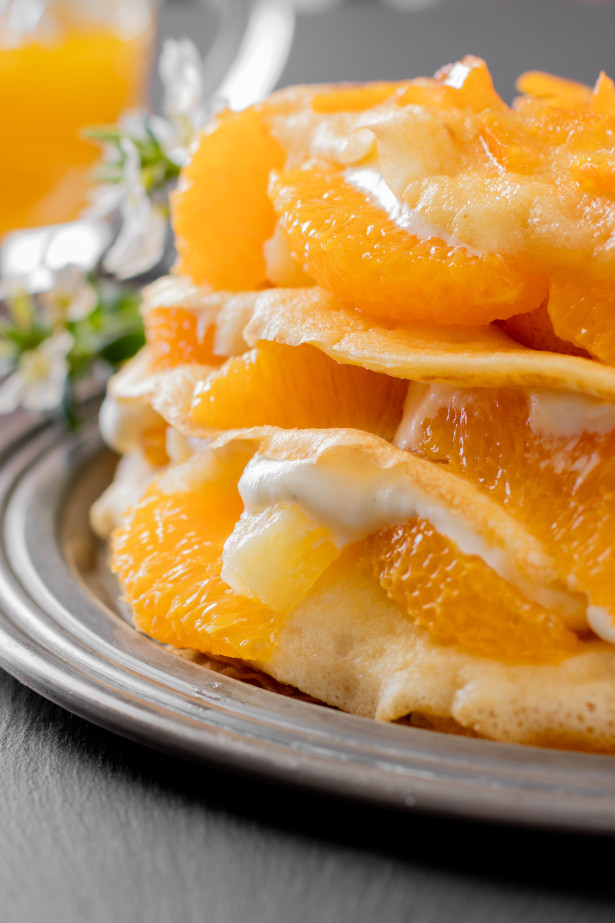 INGREDIENTS
Pancake Batter
250 g cake flour
10 ml (2 t) baking powder
1 ml (¼ t) salt
2 eggs
125 ml (½ C) sunflower oil
5 ml (1 t) vinegar
750 ml (3 C) milk
a little sunflower oil for frying
Orange Sauce
500 ml (2 C) Rhodes 100 % Orange Fruit Juice
190 ml (¾ C) Rhodes Seville Orange Marmalade
19 ml (¾ C) orange liqueur (Triple Sec or Cointreau) (optional)
30 ml (2 T) lemon juice, freshly squeezed
125 ml (½ C) butter, cubed
To Serve
4 segmented oranges or naartjies
1 x 410 g can Rhodes Pineapple Pieces in Syrup, drained
whipped cream
METHOD
Pancakes
Sift the cake flour, baking powder and salt together.
Whisk the eggs, oil, vinegar and milk together.
Slowly whisk the egg mixture into the flour forming a thick lump-free batter at first, then as more liquid is added – a smooth pourable batter.
Heat a little oil in a non-stick frying pan.
Turn the heat to medium and pour off any excess oil.
Add about 65 ml to 125 ml (¼ C to ½ C) of batter to the pan and swirl the pan around so that the batter settles in an even layer.
Cook the pancake for about 2 minutes or until the base is golden before flipping over the pancake and cooking for a further 1 minute on the other side.
Transfer the pancake to a plate and repeat with the remaining batter.
Orange Sauce
Place the Rhodes 100% Orange Fruit Juice in a small saucepan.
Add the Rhodes Seville Orange Marmalade and heat to boiling point.
Reduce the heat and simmer until slightly thickened.
Add the liqueur if using and the lemon juice.
Increase the heat and bring the mixture back up to just below boiling point.
Remove from heat and add the butter, one cube at a time, mixing each cube in well before adding another.
To Serve
Layer the pancakes in a stack alternating with a layer of the orange or naartjie segments, the Rhodes Pineapple Pieces, and the cream.
Pour the orange syrup over the pancakes and serve.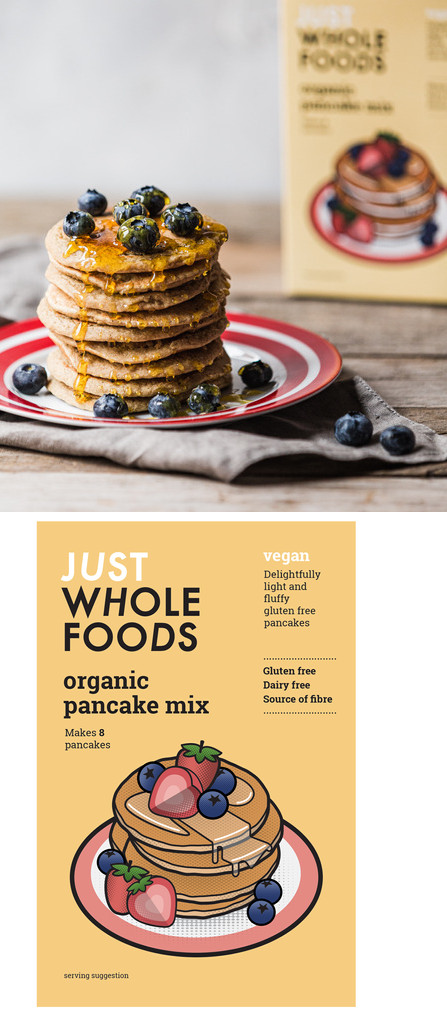 Treat your tastebuds this Pancake Day!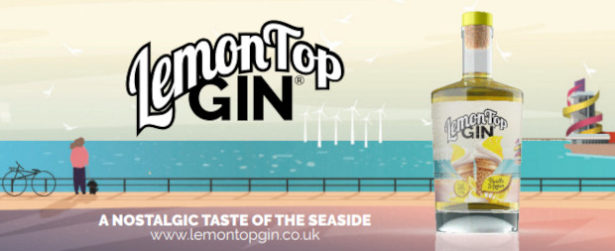 Pancake Day is just around the corner, so why not try our new flavour sensation
LemonTop Gin pancakes with LemonTop Gin drizzle!
Ingredients:
• 2 large eggs
• 100g plain flour
• 275ml milk
• 1 tbsp melted butter and extra for frying
• 25ml LemonTop Gin
• Squirty Cream
• Cherries
For the LemoinTop Gin Drizzle:
• 50ml LemonTop Gin
• 150ml Ben Shaws Cream Soda
• 4 tbsp icing sugar (optional)
Method:
1. First to make your LemonTop Gin Drizzle – put the gin and cream soda in a saucepan and bring to the boil, reduce the heat and simmer until syrupy, if you want to make it extra without reducing it too much, put the icing sugar in a small bowl and gradually add the reduced gin mixture, return to the pan and simmer for 2 minutes to cook through, set aside.
2. To make the pancakes, put the eggs, flour, LemonTop Gin, milk and tbsp melted butter into a bowl and whisky until smooth.
3. Melt a knob of butter in a large frying pan, when it starts to sizzle add a large ladle of the batter, swirl round the pan to create a nice big pancake, cook until brown on one side then flip and cook until golden brown.
4. Place on a plate, top with a good squirt of cream, top with a cherry
LemonTop Gin
LemonTopGin.co.uk
Follow us @lemontopgin @lemontopgin @lemontopgin
Sweetie Potato Pancakes
marialiberati.com
Recipe for sweet potato pancakes that are even dog friendly!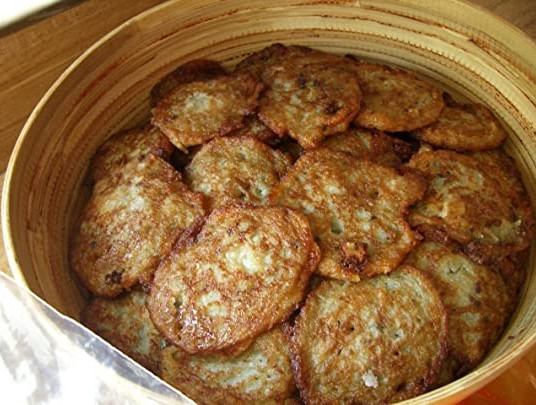 Maria Liberati, Gourmand Award-Winning Author/Celebrity Chef/ TV Personality- Maria Liberati is the author of the award-winning book series The Basic Art of Italian Cooking and Podcast host of The Maria Liberati Show.
https://marialiberati.com
twitter.com/
Marialiberatifacebook.com/
chefmarialiberati'linkedin.com/
in/mliberatiinstagram.com/
Sweetie's Potato Pancakes (dog friendly)Ingredients1 tablespoon organic green banana flour1 tablespoon coconut flour1 tablespoon organic cassava flour1 egg yolk2 slices banana mashedpinch of cinnamon1 tablespoon mashed sweet potato1 tsp raw organic sunflower seedswater to mix to pancake consistencyPinch of brewer's yeastHow to make1. Blend all ingredients together till smooth2. Warm nonstick griddle, place 1/2 tablespoon of batter in a pan and when cooked on one side flip over and cook on the other side3. Repeat till batter is finished4. Let cool5. Can refrigerate leftovers for one day.
Fluffy Cornmeal Pancakes
www.bakeandbacon.com/cornmeal-pancakes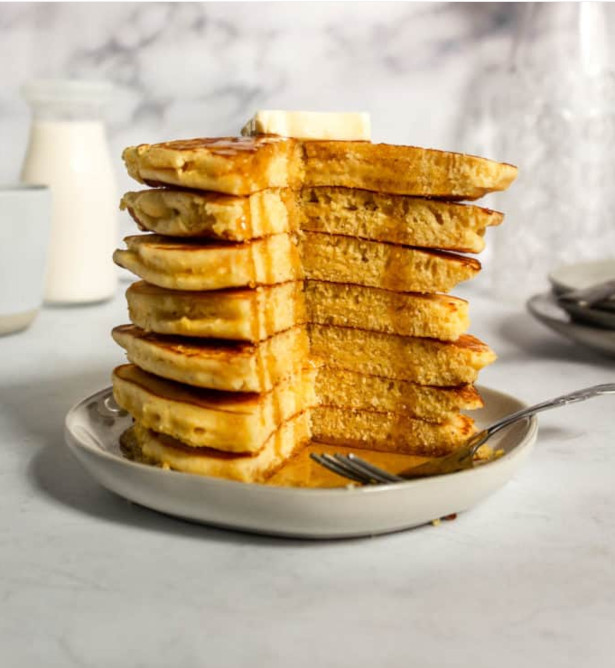 An amazing brand fo Pancake Tuesday! It's called Sukrin USA.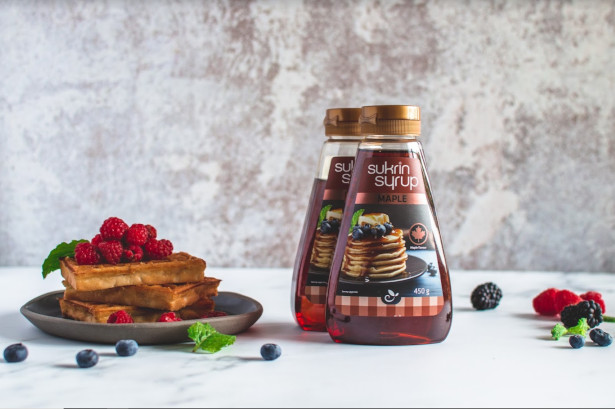 They are widely known for their premium sugar-alternatives, syrups (I pour the no sugar maple syrup all over my Keto pancakes all the time!) and their non-wheat, low carb flour products! We love their defatted almond flour!
You can use their almond flour for pancake recipes along with their sugar substitute in your healthy pancake recipe! Those are Sukrin USA's best pancake ingredients: Defatted Almond Flour (link below), sugar or brown sugar substitute, and of course their fiber filled maple strup!
Sukrin Defatted Almond Flour:
sukrinusa.com/product/defatted-almond-flour/
Sugar substitutes: Sukrin 1
sukrinusa.com/product/sukrin1/
Brown sugar substitute: Sukrin Gold
sukrinusa.com/product/sukrin-gold-250/
Syrup: Sukrin Maple Syrup
sukrinusa.com/product/sukrin-maple-syrup/
Sukrin USA
Price: $2.49 – $80.00
Sukrin USA carries a range of all-natural, zero-calorie and low-carb sugar alternatives, naturally gluten-free, and fat-reduced flours, low-carb, sugar and gluten-free bake mixes and delectable, sugar-free chocolates. The Sukrin range of products is perfect for those wanting to live a healthier life and even more so for those needing a special diet without gluten, low in carbs and without sugar. All products are as natural, unprocessed and healthy for you as we can possibly make them – and fantastic new products are introduced continually. Sukrin USA is the exclusive importer to the USA of the brand Sukrin, founded in 2007. Since the introduction, Sukrin brand has grown to become the dominant health brand within its category in all of Scandinavia and large parts of Europe and numerous awards and honors have been bestowed upon the Sukrin range of products.
Joy of Veg Pancake
Recipe by Vegetable Essence Yondu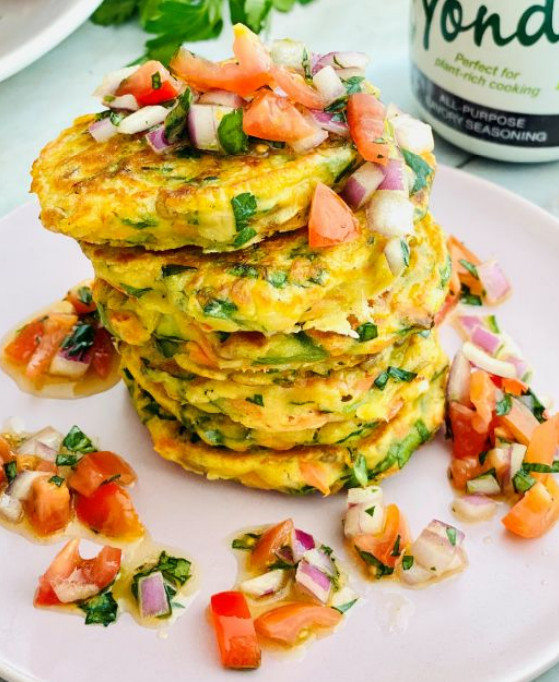 A luscious bomb of flavour for a healthy Shrove Tuesday
Total time: 30 min
Serves 4 (8 pancakes)
Yondu effect: Replaces salt or any other flavourings
Recipe benefits: Healthy, flavorful and Easy
Ingredients:
125g flour
10g baking powder (2 teaspoons)
150 ml oat milk
2 Tablespoons Yondu Vegetable Umami
1 small carrot, peeled and shredded (50g)
½ small courgette, shredded (70g)
30g fresh spinach, chopped
20g sunflower seeds (2 tablespoons)
Black pepper and olive oil
1. In a bowl combine flour, baking powder, oat milk and Yondu and stir until smooth. It will look a
little thick, but don't worry.
2. Add shredded carrot, courgette, spinach, sunflower seeds and black pepper (optional). Stir well
and let rest for 4 minutes before cooking.
3. In a skillet over medium-low heat, drizzle a few drops of olive oil and make the pancakes as
follows: Carefully place two tablespoons of batter in the skillet and shape the edges to make the
pancakes as round as possible. Cook for 3 minutes, then flip and cook 3 more minutes on the
other side.
4. You can serve your Veg Joy pancakes with Mexican style pico de gallo: Chopped tomato,
chopped onion, chopped parsley, a drizzle of Yondu, a drizzle of lemon juice and a drizzle of olive
oil.
Notes/tips:
For a gluten free version use your favourite gluten free flour but only 100g instead of 125g. You can also
use whole wheat flour or any other flour that you like.
DID SOMEONE SAY BOOZY PANCAKES?
Try this delicious Banana & Butterscotch recipe from Palm Beach!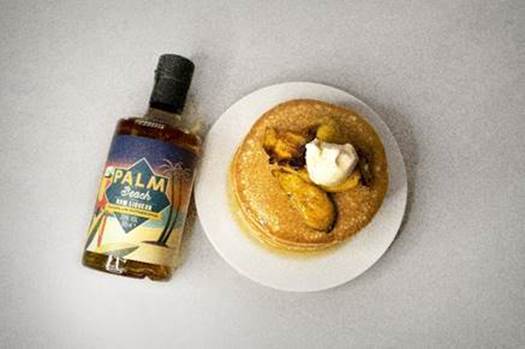 Pancake Day is almost upon us – why not shake things up this year and add a boozy twist to your recipe? Palm Beach Banana & Butterscotch Rum Liqueur is the perfect addition to try a new take on the delicious classic. And the best part is, they're incredibly easy to make!
Ingredients
For the pancakes
2 cups plain flour
2 eggs
1 ½ cup whole milk
75g unsalted butter
3 tsp baking powder
Pinch of salt
For the topping
100g dark brown sugar
100g unsalted butter
4 bananas, cut into 1cm diagonal pieces
2 tbsp Palm Beach Banana & Butterscotch
2 tbsp double cream (optional)
Vanilla ice cream to serve (optional)
Method
Sift the flower into a bowl with the baking powder and salt (this will make the pancakes grow).
Beat the eggs, then mix with milk and butter.
Add the dry ingredients into the wet ingredients and mix until combined.
Fry the pancakes on a dry non-stick pan for 2 minutes or until golden brown on each side and set aside. Keep in a warm oven until ready to serve.
For the topping: melt the sugar and butter in a pan until combined.
Add bananas and fry for 2 minutes each side.
Add Palm Beach Banana & Butterscotch and toss pan to cover all bananas.
To make the topping creamier, add double cream and mix until absorbed.
To serve, stack the pancakes, cover with topping and add a scoop of vanilla ice cream.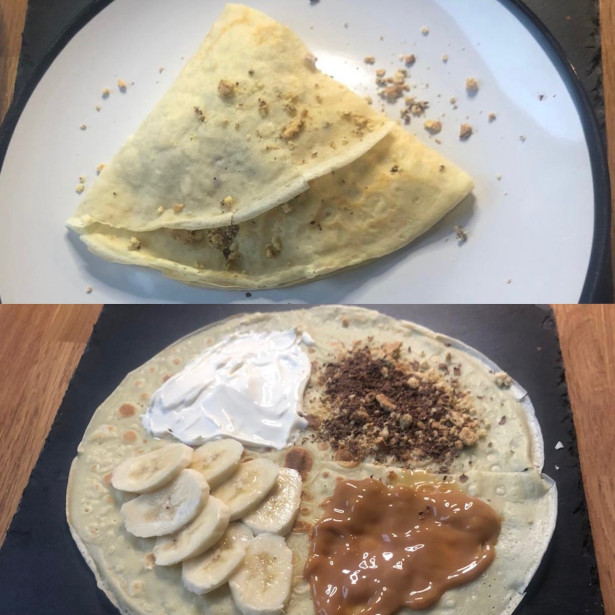 "I'm Graham Fletcher the head chef of Equals Health. A company started by Harrison Jones a 2017 candidate from the apprentice. We produce organic and healthy meals. We currently supply such retailers as Planet Organic and are just about to launch our own range of frozen organic meals, protein balls and smoothie mixes on our website equalshealth.co.uk
We've put all our efforts into creating the finest range of organic frozen and grab-and-go meals, made with only the best ingredients. Everything is ethically sourced and lovingly made. They're flash frozen at the point of production to lock in the nutrients and great taste, these meals offer a great option for customers looking to stock up their freezers with a range of delicious and healthy meals.
I decided for pancake day this year I would replicate the folding tortilla craze from social media. For the fillings I went for my favourite dessert, banoffee pie. On each quarter of the pancake I put caramel, banana, crushed biscuit with grated dark chocolate and cream and then folded it up into a triangle
It was the most beautiful decadent pancake I have ever tasted."
Graham Fletcher
Kitchen Manager
————————————————
07775 596400 (Mobile)
www.equalshealth.co.uk
Instagram – @equalshealth