ALL Blacks Catch Up (Q&A)…Keep your streak: INEOS Hygienics release dedicated pro sports sanitiser to minimise lost training days
Optimise performance with INEOS Sport
The range – coming soon. find out more and buy on AMAZON HERE
People who take their sport seriously know that progress is built on training momentum. Whether professional or amateur, goal big or small, it's imperative to stay fit and healthy and bank those training gains. Maintaining good hygiene, day in, day out, is a key part in keeping your streak.
INEOS Sport is a new range of professional sport sanitiser sprays which have been co-developed with elite sports teams to help prevent the spread of infection among players and keep performance front of mind.
INEOS Hygienics is the official hygiene partner to some of the world's leading sports teams, working to keep Mercedes-AMG Petronas Formula One, Tottenham Hotspur Football Club and the INEOS Grenadiers Cycling Team at the top of their game.
Just recently, InTouch Rugby interviewed the All Blacks players to discuss their training and hygiene routines, and here is what they said:
InTouch Rugby: Ardie, What is your pre-training routine to ensure you are at your best… and does this change at all for match day?
Ardie Savea: Training and personal hygiene have always been very important to rugby athletes. We spend a lot of time training together, so always wear masks and use hand sanitiser. We also always sanitise before eating and touching food.
InTouch Rugby: Braydon, With the increased awareness around the danger of viruses and the increased awareness of how they spread so easily, what for you are your no.1 tips for remaining virus free in a sports environment?
Braydon Ennor: Making sure to clean ourselves is important. We shower three or four times a day – and in public we always make sure to wear face masks.
InTouch Rugby: Travelling to and from games can involve multiple stops and flights and bus journeys. Do you feel enough is being done to protect each other and everyone involved in mass rugby events?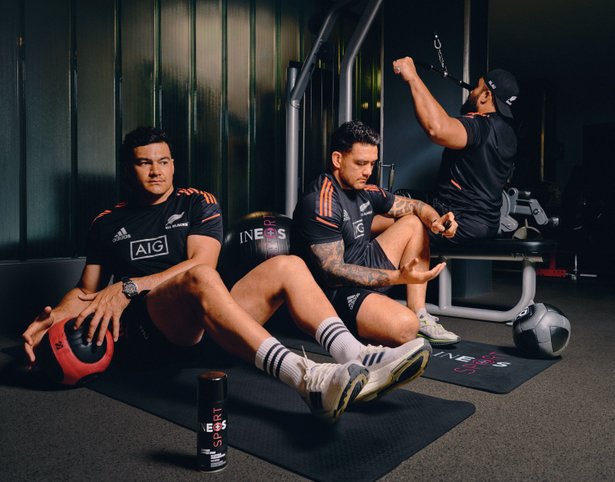 Ardie Savea: Whenever we travel and go into airports, we always wear masks. Also, as we are always touching things, we make sure to wash our hands and use hand sanitiser as often as we can.
InTouch Rugby: With players returning to training and games, are you hopeful the systems in place could see the game fully opening up soon and what roles have hygiene products played in this?
Ardie Savea: Hygiene products have been awesome – which means things are looking pretty good at the moment!
As one of largest ethanol producers in the world, INEOS Hygienics is a reliable, trusted name in high purity alcohol-based sanitiser products.
Fast drying, non-slip formula
The first of its kind, the specialist fast drying, non-slip formula leaves hands and equipment protected and ready for action. INEOS Sport is made with 70-75% pharmaceutical grade alcohol, which kills 99.9% of viruses and bacteria.
Being a team player today is about competing with confidence and protecting ourselves and others. INEOS Sport is designed to help keep your schedule on track, improve your sports performance, and limit training setbacks and lost days due to illness.
Sir Dave Brailsford, Team Principal of The INEOS Grenadiers Cycling Team said: "Athletes dedicate their lives to their sport and make many sacrifices to ensure they perform. Which is why hygiene is such a crucial part of an athlete's armory – because the last thing they need is to miss out on a day of training from picking up a bug or a virus.
"Nearly every athlete pushes their body to perform at the highest level in sport, and of course, when you do push your body, you can depress your immune system. So, there's a heightened need for attention to hygiene because of the athletes' susceptibility to picking up a virus or a bug.
"Athletes need to be consistent with their everyday routine, and a hygiene programme is critical in ensuring they are able to perform at the best of their ability.
"Which is why we have worked closely with INEOS to develop the best possible product for the athlete to maintain health so you don't miss any day or any moment that you could be training or competing.
"It's a sports range, designed by sport's people, for sport."
George Ratcliffe, Chief Operating Officer of INEOS Hygienics said: "Sporting culture at INEOS has been ingrained within the business for the past 20 years and INEOS has some of the world's most successful sports teams within the company, from Formula 1 to cycling and sailing.
"The INEOS Sport sanitiser range was a very natural and authentic step as we were able to lean on our elite teams and their expertise to get their input and design into a product that they would need.
"Our elite sports partners – and Sir David Brailsford's team in particular – were instrumental in the birth and development of the new INEOS Sport product range. Which is the first of its kind.
"They saw INEOS Hygienics supporting doctors and nurses during the pandemic and came to us asking if we could create a sanitiser specifically for sport, because for athletes – getting ill means missing crucial training days.
"There's a real need for this product in the world of sport, and we have been able to use our elite sporting expertise to create a product that is fit for elite sportspeople, and anyone who is active. Whether that's taking part in five-a-side football after work, walking to the bus, or a serious sportsperson – it's the same product that's fit for all."
The INEOS Sport range includes:
INEOS Sport Hand Sanitiser Spray, 50ml, £1.99
– This portable hand sanitiser spray is designed to clip on to a bag or belt loop with a detachable carabiner, for easy application before and after exercise.
– With 75% pharmaceutical grade alcohol, this spray offers 99.9% protection against viruses and bacteria. Unlike slippery hand gels, this fast-drying mist spray requires no towels – so hands are ready for action, wherever you go.
INEOS Sport Equipment Sanitiser Spray, 100ml and 400ml, £3.49 – 4.99
– Start clean and end clean, whatever your workout, with INEOS Sport Equipment Sanitiser Spray. With more than 70% pharmaceutical grade alcohol, this formula kills 99.9% of viruses and bacteria.
– Perfect for your kit bag – the 100ml format is conveniently sized to take with you to the gym, studio or team changing room.
– For individual or team use – it can be used on sports equipment and clothing such as balls, rackets, mats, bats, bibs, gloves, foam blocks, weights, cross-trainers, exercise bikes, reformer beds and more.
– Fast drying, it won't slip or interfere with grip. Exercise with confidence in a shared space and pass on the courtesy of ready-to-use, clean equipment to fellow users.
– These ergonomically designed aerosols are available in kit bag size 100ml, for personal use, and a larger 400ml size, for commercial use by trainers, coaches, gyms, Pilates and yoga studios.
Keep your streak with INEOS Sport
Join our community of elite sportspeople at @INEOSHygienics
Available at amazon.co.uk