WHAT: Celebrate the spooky season with Gotcha Fresh Tea's limited edition
Halloween collection!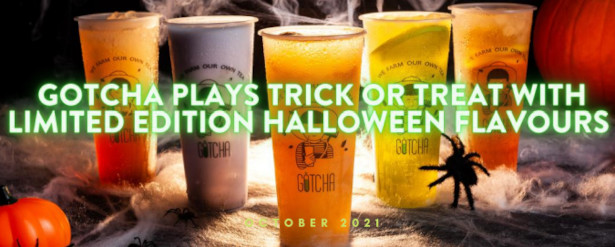 Gotcha is releasing a limited edition Halloween Tea
Halloween is here! And to welcome in the spooky season, Gotcha Fresh Tea have
conjured up a Halloween collection of delicious teas with delightful and frightful
fruity flavours.
Candy Apple Green Tea (sweet apple with jasmine green tea with a topping of
white pearls) $6.80 and Jack'o lantern inspired sweet Pumpkin Boom Fresh Milk
(pumpkin and sweet potato topped with fresh milk) $7.20 will entice the bravest
tea lover to indulge in Gotcha's seasonal creations.
collection, comprising of FIVE spooky tea!
WHEN: From Thursday 28th of October until Sunday 31st of October 2021.
Gotcha Fresh Tea is a unique offering in the Australian tea space, much more than another 'bubble
tea'. Freshly brewed from real fruit puree and real tea leaves, all Gotcha Fresh Teas are hand made for
each individual order.
Focused on delivering a high quality experience for all their customer from what is inside the cup to
the store experience, Gotcha Fresh Tea offers a bespoke and fun experience for their customers.
With a delectable selection of handcrafted teas, collagen teas, and milk teas, Gotcha Fresh Tea has
tea to suit every tea lover's wildest desires!
O C T O B E R 2 0 2 1
A B O U T G O T C H A F R E S H T E A
H A L L O W E E N T E A
CCOONNTTAACCTT UUSS
W: gotchafreshtea.com.au/
E: info@gotchafreshtea.com.au
MMEEDDIIAA EENNQQUUIIRRIIEESS
Other limited edition flavours include WinterLemon Macchiato (wintermelon and lemon flavoured
tea with cheese foam) $7,20, WinterLemon Juice (wintermelon and lemon flavoured tea) $7.00 and
Kumquat Plum Green Tea (kumquat and plum flavour with jasmine green tea) $6.80.
Bubble tea fans will be able to order Gotcha's Limited Edition Halloween range in-store and on
delivery apps nationwide!
VIP Bottles – the UK's fastest-growing eCom alcohol retailer. They have one mission – to deliver the world's freshest, most innovative and exclusive alcohols directly to the doorsteps of their UK customers – they're often the first to launch new products into the UK, such as a very imminent launch for a hugely trending celeb tequila.
For Halloween Crystal Head Onyx Vodka and Crystal Head Skull Vodka.
See the full story @ :- https://www.intouchrugby.com/magazine/special-segment-halloween-feature-2021/