Skincare for all this festive season from Nuture!
Nuture
We often see the beauty in our loved ones that they struggle to see. Nuture products are designed to help build confidence and remind them to be proud of the skin they are in. So give the gift of self care this Christmas with a range of products designed to deeply nourish and hydrate the skin.
• Nuture Nourishing Skin Treatment Oil, RRP 50ml £8.99 and 150ml £17.99
• Nuture Facial Treatment Serum, RRP £15.99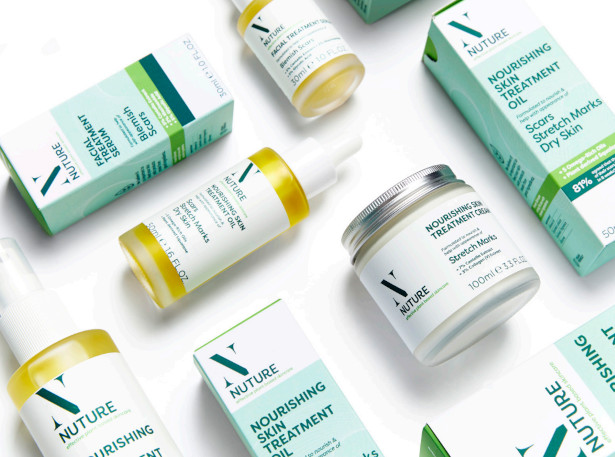 Introducing Nuture:
the new effective plant-based skincare brand for all skin types
Nuture is an effective plant-based skincare brand that is here on this journey called life, every step
of the way, to care for you and your skin concerns, including scars, stretch marks and post blemish
marks. With its innovative range of nurturing and caring products inspired by nature, Nuture's ethos
is deep rooted in creating products from cleaner ingredients because we know that nature is the
best cure of all.
Scars and stretch marks are not something to hide. They are your history written on your
body. They are experiences gained. And they're something to be proud of. Everyone has
their own story of finding strength in unexpected ways, and that is something to never feel
ashamed or embarrassed of, but always be proud of.
Nuture wants everyone to feel confident and accepting of their scars, stretch marks and
imperfections through the pure power of nature. Nuture is there for you and your daily life,
when experiences both good and bad, leave their mark.
From a Nourishing Skin Treatment Oil to Facial Treatment Serum, the vegan-friendly
range uses a unique blend of plant-based omega-rich oils with high performing
actives, like Squalane, Centella and Grapeseed oil, a natural source of Vitamin E,
to consistently deliver a positive impact on your skin. Formulated without mineral
oil, artificial fragrances or colours, parabens or silicones in Nuture's range – we let
nature take its course and care for your skin the good way.
The full range includes:
Nuture Nourishing Skin Treatment Oil: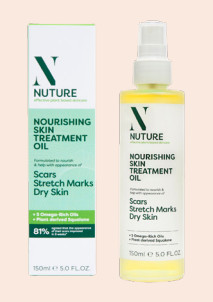 Nuture Nourishing Skin Treatment Oil is a deeply nurturing and restorative
oil that helps to improve the appearance of scars and stretch marks in
just 8 weeks*. Formulated with highly effective plant-based omega-rich
ingredients including Rosehip, Grapeseed, Squalane, a natural source of
Vitamin E and Chia, the light-weight oil is easily and quickly absorbed
and works to replenish hydration for improved elasticity and supple skin.
RRP: 150ml bottle with spray £17.99, 50ml bottle with pipette £8.99
Nuture Skin Treatment Cream: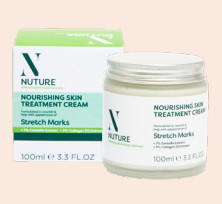 This rich, luxurious cream has been designed to help Improve the
appearance of all types of stretch marks, and help with the
development of new ones. Formulated with ultra-nourishing Shea
Butter, Coconut Oil, Vegan Collagen and Centella along with
plant-based omega-rich oils, Nourishing Skin Treatment Cream
can be used on a daily basis all over the body and is safe for use
during pregnancy. The effective vegan-friendly cream also helps to
improve elasticity and leave the skin firmer, more supple as well as
leaving stretch marks softer and smoother to feel confident every day.
RRP: 100ml Jar £12.99
Nuture Facial Treatment Serum: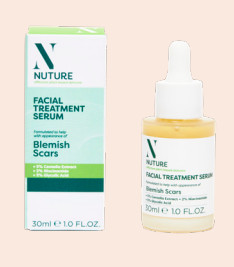 A proven, effective formulation to help brighten the complexion,
help improve skin tone and texture as well as helping to improve
the appearance of post-blemish marks and hyperpigmentation.
Developed using an innovative combination of effective plantbased ingredients the serum is formulated with super-potent
actives including Centella extract, Arbutin and Bakuchiol (a gentle
vegan alternative to Retinol) as well as other key ingredients,
glycolic acid, hyaluronic acid and Niacinamide which all play a
key role in helping achieve and maintain a brighter complexion.
So you can feel confident in your skin every day.
RRP: 30ml bottle with pipette £16.99
Nuture Recovery Cream**: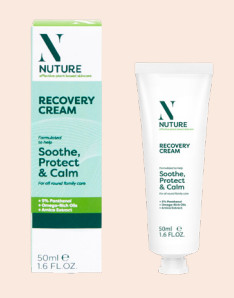 This multi-purpose skincare remedy that takes care of your* everyday
skincare needs whenever you need a little helping hand. The veganfriendly Recovery Cream has been masterfully created with effective
ingredients like Vitamin B5, known for its nourishing qualities and
supporting skin recovery. What's more, the herbal infusion of Centella
(Cica/ Tiger Grass Extract) and Arnica help to soothe and calm
distressed skin.
RRP: 50ml tube £9.99
Stockists: Boots, Amazon, Ocado and directly from Nutureskin.co.uk
Based on an 8 week in-home trial on stretch marks by 111 female panellists aged 18-60, and a 8 week
in-home trial on scars by 113 female panellists aged 18-60. Stretch marks are influenced by many
factors including diet, skin type and genetics. Results will vary from individual to individual.
**Nuture Recovery Cream is suitable for children over the ages of 6 months and they are encouraged
to be patch tested before use.