Torabhaig Allt Gleann – a Single Malt Scotch whisky shaped by Skye
Torabhaig distillery – the first new distillery on the Isle of Skye for 190 years and one of only two licensed distilleries on the island – has launched its second release since beginning distillation in 2017, Allt Gleann.
Allt Gleann is named after one of the burns (streams), that feeds the distillery with fresh island spring water, and reflects the beautiful landscape in which it is produced.
A new and distinctive take on peated malt whisky, Torabhaig showcases the wealth of skill and understanding of the complex process to go against the grain of traditional heavier peated and medicinal whiskies to create a well-tempered and well-balanced whisky with refined smoky notes and a maritime influence.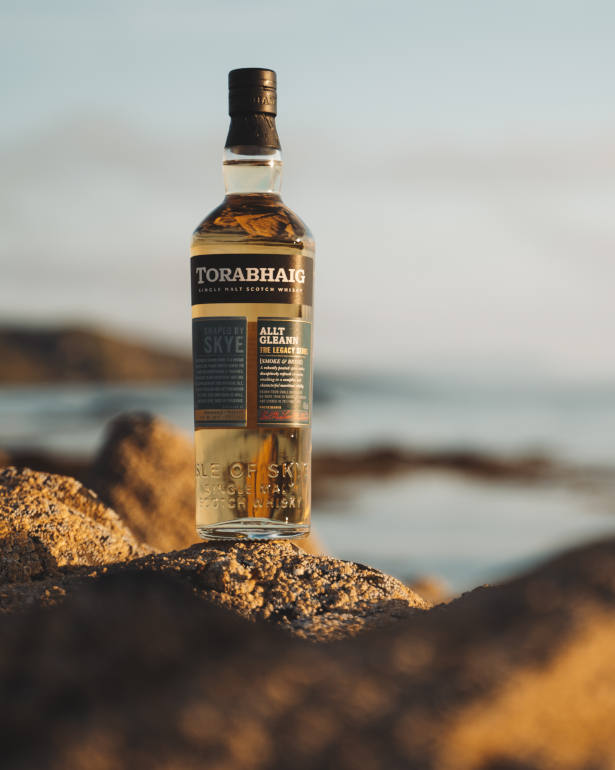 Truly shaped by Skye, the distinctive flavour profile of Torabhaig, inspired by the rugged beauty surrounding the distillery, is achieved in part by the short copper stills, specially created to fit in the listed farmstead building in which the distillery has been built. The distillery and the distilling process is used to tame the 'ruggedness' of the heavily peated malt ensuring a well-balanced result with well-tempered, elegant peat flavours. The team of distillers, all from the local area, have been trained from scratch to create the legacy that will be Torabhaig whisky.
Allt Gleann will be the second of four expressions to be released under the Torabhaig Legacy Series, each capturing a stage on the journey from inception and youth through to coming of age and full maturity. These initial bottlings represent an opportunity for Torabhaig Distillery to develop its style and character, ahead of Torabhaig Single Malt Whisky 10-year-old, due to be released in 2028.
Tasting notes: SMOKE & BRINE. A robustly peated spirit with a deceptively refined character, resulting in a complex and characterful maritime whisky.
Bottled in small batches drawn from no more than 30 casks each, Allt Gleann is the second of four releases in the Torabhaig Legacy series of limited bottlings. It is aged in first fill bourbon and refill whisky casks and bottled at 46%.
Torabhaig Allt Gleann is available from Waitrose Cellar and all good spirits retailers including The Whisky Exchange, Royal Mile Whisky and Master of Malt. RRP: £52.