An incredible new advent calendar from Chimney Fire Coffee
Its a wonderful festive gift > The 12 Days of Discovery – Coffee Advent Calendar. Containing 12 bags of 70g coffee (either whole bean, or pre-ground) with a booklet, information and map. https://chimneyfirecoffee.com/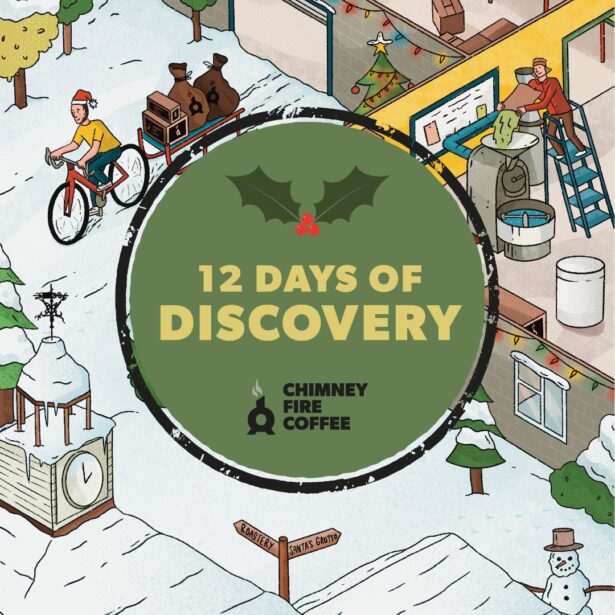 Their 12 Days of Discovery Advent Calendar is a specially curated collection of coffees from their 2022 Discovery Coffee range. Each coffeehas been carefully selected by their roastery team to satisfy different tastes, and introduce a new and interesting coffee from around the world – be that a new origin or region, a new process or varietal, or something seasonal with a unique flavour profile.
From Malawi to India, you will be sure to find something new and exciting this festive season. Available at Chimney Fire Coffee from early November 2022.
—
Chimney Fire Coffee is a speciality coffee roastery nestled in the Surrey Hills. They produce and supply ethical coffee products and subscriptions for both home consumers, and business customers (including end-to-end service, coffee beans, machinery, barista training, and corporate experiences).
Their coffee range includes 8 mainstay coffees, a rolling monthly 'Discovery Coffee' (where each month they introduce a new and interesting coffee from around the world), and most recently their Peru Classic Espresso Nespresso® compatible compostable coffee pods. They also offer coffee immersion tours at their roastery and run off-site coffee experiences, collaborate with talented local brands and makers and create new products including cycle jerseys, coffee-chocolate and coffee candles. Their recent launch, with Silent Pool Distillery, is the incredible Espresso Martini.
They work hard to bring their customers coffee to suit every taste that supports ethical and eco-friendly practices, all the way from farm to cup.
Chimney Fire Coffee is all about sustainability from the ground up with direct and transparent sourcing, 100% compostable packaging and delivering social impact through donations to Re-Cycle, a small charity who refurbish bikes in the UK and send them to rural communities in Africa. They're also an Accredited Living Wage employer and are B Corp CertifiedTM, demonstrating standards of social and environmental performance, transparency and accountability.