ICE PACK
The Natural Way to Alleviate Pain
Caused by Sport Injuries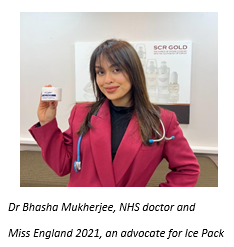 Whether caused by sport injuries, arthritis, or nerve damage, pain is usually treated with medication that
can have serious side effects when used in the long term.
No wonder the award-winning Cetuem Ice Pack has received such wide-spread support from sufferers desperate for relief without the recourse to medication. Developed in collaboration with osteopaths and physiotherapists, Ice Pack is based on a formula of natural ingredients.
A cooling therapy gel enriched with Menthol, Allantoin, Aloe Vera, Peppermint and Camphor essential oils, Ice Pack is free from steroids and other drug related ingredients.
Journalist and TV personality Carole Malone has described Ice Pack as a miracle.
She adds "I snapped my meniscus in my knee and for months afterwards I suffered pain and stiffness in it. I'd been using chemical anti-inflammatory gels which stopped working after a few weeks. But Ice Pack is fabulous. Made from natural ingredients it literally "freezes" the pain until it subsides. I'm also using it to calm inflammation in other areas and I can literally slap it on because there are no drugs in it.
I'd strongly recommend it to anyone suffering from arthritis or muscular aches and pains."
Gina John, Osteopath Practitioner says: "At my busy practice, we need to use therapy products like Cetuem that we can rely on for the most acute conditions, including sports and spinal injuries. Cetuem Ice Pack is dependable, reducing pain and swelling from the acute phase of injury and improving tissue health throughout the rehabilitation process. For chronic ligament strains it's perfect for calming the tissues"
Users have also reported that it has helped with period pain and even pain caused by Endometriosis.
Ice Pack is available from Cetuem Cosmetics Ltd
Ice Pack £12 (100 ml), £22 (200 ml), £52 (650 ml)