Cyrus soundBuds2… British designed true-wireless headphones only £79.99… on AMAZON
British designed soundBuds2 from Cyrus Audio offer hi-fidelity sound from lightweight true-wireless earphones. The Cyrus soundBuds2 have a sleek modern design with capacitive touch controls. Their snug and stable fit, coupled with heavy-duty water resistance (IPX5), and Bluetooth connectivity also make the soundBuds2 an excellent match for exercise or listening at home with great sounding audio. For only £79.99
To buy – https://www.amazon.co.uk/Cyrus-soundBuds2-Wireless-Bluetooth-waterproof
Cyrus Audio announce new soundBuds2 true wireless in-ear headphones at only £79.99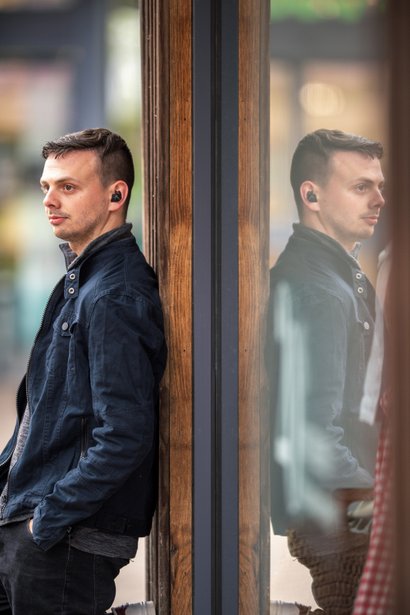 Cyrus Audio, a high-end British Hi-Fi manufacturer with nearly four decades of design and manufacturing experience, has launched the second-generation soundBuds2 in-ear headphones. Building upon the first iteration, Cyrus has dramatically improved on their soundBuds with a sleek modern design, improved larger drivers, longer battery life and capacitive touch controls, whilst retaining the original soundBuds' lightweight but durable construction and rock-solid Bluetooth connectivity.
Superior rhythm and clarity while answering calls or working out
Focused largely on their pristine, balanced sound quality and long-lasting comfort, the soundBuds2 are the ideal work-from-home headphones. They feature an impressive Bluetooth range of 10 metres and have a crystal-clear built-in microphone. You can easily move around the house (hands-free, of course) while you seamlessly switch between answering phone calls and listening to your favorite music.
The soundBuds2 design is outfitted with soft ear hooks, so you can listen comfortably for as long as you like. The snug and stable fit, coupled with heavy-duty water resistance (IPX5), also make the soundBuds2 an excellent match for sports and exercise. Whether you prefer to go to the gym or exercise outdoors, you won't have to worry about sweat or getting caught in the rain. Their "non fall out" fit making them almost impossible to lose.
Award-winning British audio engineering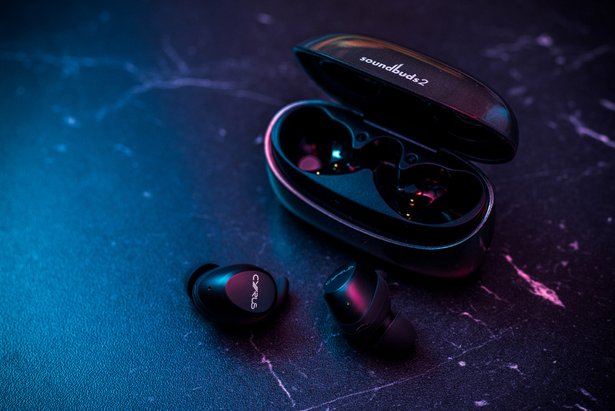 The soundBuds2 offer a carefully balanced sound with a neutral tone and excellent dynamic range. Designed for audio enthusiasts who prefer to hear their music without artificial emphasis, they deliver a natural and insightful performance, in the compact size our modern lives demand. Higher-fidelity sound has been prioritized over 'signal processing', so they operate without the phasing artifacts of noise-cancellation.
Soundbuds2 come with an ergonomic, pocket-sized fast charging case with one hour rapid charge. Once charged, the soundBuds2 give five hours playing time, and the smart carrying case, another 15 hours of battery life in your pocket. In total the soundBuds2 offer an impressive 20 hours of listening. The headphones weigh just 4.3g each and are supplied with three different sized ear-tips to accommodate most ear sizes.
"Based on the success of the soundBuds, Cyrus listened to the wants and needs of their customers to design an even better in-ear headphone," said Simon Freethy, Managing Director of Cyrus. "We have retained the extremely light weight "fit and forget" design and a small case for "slip in your pocket" portability. Again, we have focused on combining this with superior audio and soundBuds2 are sonically a step up over the previous model. Auto pairing, new touch controls and increased battery life have all enhanced the ease of use. The one thing that has not changed is the price, making them even better value."
soundBuds2 will be available Q2 and sold on Amazon for £79.99/$119.
SoundBuds2 specs:
Bluetooth version: 5.0
Distance: 10 meters
Voice assistant ready
Water-resistant: IPX5
Speaker driver: 6mm
Impedance: 16 ohms
Frequency range: 20Hz-20KHz
Earphone playing / talk time: 5 hours
Charging case battery capacity: 5000mAh
Earphone battery capacity: 50mAh
Charges on the go: > 3 times
Total playing time: > 20 hours